LOCKSMITH SERVICES CHARLOTTE, NC
We have an extensive experience of around 18 years of serving the people of our own community in NC and take pride in providing nothing but the best locksmith services to our clients.
Steve's Locksmith was founded over two decades ago. We are a family owned and operated business. We are licensed in the state on NC to perform locksmith services. We are a Mul-T-Lock authorized dealer and have thousands of satisfied customers in the Charlotte NC area.
Not only do we provide mobile locksmith services to Charlotte, but also Matthews,  Weddington, Indian Trail, UNCC, Pineville, Concord and Fort Mill. With years of experience and dedication to customer satisfaction you can be assured you will get the highest quality Locksmith in the Charlotte area.
Get the Highest Quality​ Locksmith in the Charlotte Area!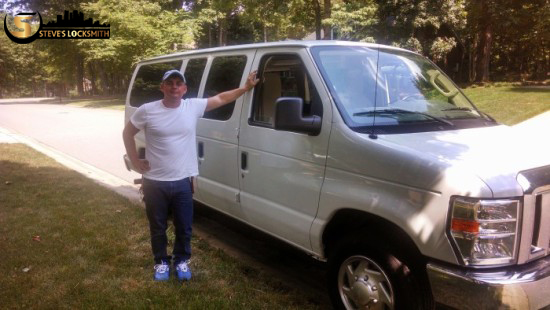 Are you in a habit of forgetting your keys in your vehicle? Or are you someone looking to get a repair/replacement of a lock and key system of your office or residence? Well if your answer to either of the above asked question is yes and you reside in the NC area then, you've surely landed at the right place as we at Steves Locksmith offer the most professional locksmith services to the people living in Charlotte, NC. 
Our Locksmith Charlotte NC is an organization dedicated to the task of providing instant and useful solutions to every lock and key issue that people encounter on daily-basis. We have an extensive experience of around 18 years of serving the people of our own community in NC and take pride in providing nothing but the best locksmith services to our clients.
There is no doubt that lock related issues can arise at any hour of the day and one might need the help and support of a professional locksmith at wee hours as well. Getting in touch with a local Charlotte locksmith is as necessary as staying in constant touch with an experienced electrician, plumber or carpenter. 
Thus, whenever a client approaches us with his/her lock and key related issues, our technician immediately rushes towards the spot in order to impart his expert services and does his best in satisfying the desires and needs of the clients and ensuring complete security of his loved ones and prized possessions once again.
Residential Locksmith Services Charlotte
Ensuring complete security and safety of one's home is the first priority of every individual and there is no denying of the fact that locks constitute one of the most important parts of the entire security system of one's residence. Thus whether or not you own a mansion or an apartment, you still need to pay a lot of attention to its physical security system in order to ensure complete well-being of your loved ones. At Steves Locksmith, we tend to offer a number of residential locksmith services to our clients located in the Charlotte, NC area.
Commercial Locksmith Services Charlotte
Are you a business owner or an entrepreneur who is always worried about the potential security risks in your office's security system? Well, if your office or commercial undertaking is located in Charlotte NC, then Steves Locksmith commercial lock and key services are especially designed to assist you of this constant fear and stress. We help you install high security and commercial push button lock systems in your office apart from installing mailbox locks for ensuring safety of your private and confidential information. 
Automotive Locksmith Services Charlotte
A number of people encounter lock and key related issues with their vehicles, the most common of which are locking their keys in the car and breaking of original keys. No matter how big or small your lock problem related to automobiles are, at Steves Locksmith, we have an expert team of technicians capable of handling such issues with ease. Our Car Locksmith Charlotte NC services even include replacement, maintenance and repair of motorcycle lock and key system.
Steve's Locksmith is Your Complete Locksmith Services
At Steve's Locksmith, we have a team of professionally qualified Locksmiths and technicians that are very well aware of each and every aspect of lock and security problems and are trained to react immediately in emergency situations. Are you looking for a dependable locksmith Charlotte NC? Then, get the services of Steve's Locksmith so you can have peace of mind that your establishment's locks are in good hands. Why hire other locksmith service providers when you can get the best services with us? We provide quick and efficient Locksmith services.

Our experienced and licensed technicians can work with a wide array of locks in Homes and business establishments. We can assure you that the lock of your Home and offices will be figured out professionally by our trusted technicians. We are a company who has an impressive background, backed up by the testimonials of our pleased customers.
Whatever type of lock your home or office is using, trust that we can figure it out for you. We are capable of unlocking advanced locks because we utilize specialized technology to get the job done for you.Our services don't stop there. We also provide locks that can improve the security of not only your Home, but an entire building. 

Our technicians, who have been in the business for several years, are expert in installing advanced locking systems, such as CX-5 or Scorpion and Mul-T Lock. These modern locking systems are amazingly efficient because they are high drill resistant and pick resistant. And you can avail of these wonderful features for life! So, do not waste time, effort and money in hiring inexperienced technicians just to save up for installation fees. 
At Steves Locksmith, you can rest your mind that your money will not be wasted.Our company is a recipient of the 2013 Super Service Award from Angie's List. We also have certification by Aloa Security Professionals Association, Inc., and an accreditation by the local Better Business Bureau.
Emergency Locksmith Services in Charlotte NC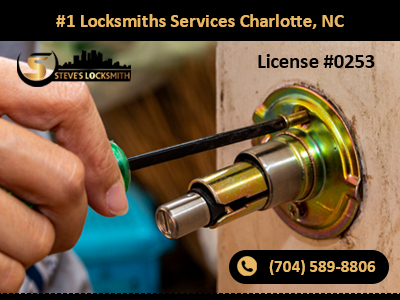 We at An Steve's Locksmith comprehend the need of requiring crisis locksmith administrations. Nothing is more nerve-wracking than remaining outside your home at odd hours or having your home without a lock on the grounds that the lock on your entryway chose to quit working. With crisis locksmith benefits all that you would be required to do is to give us a ring and we would be headed to have things done in the blink of an eye.
 In circumstances such as this, it is exceptionally prescribed that you ought to have joined with believed Locksmith specialist co-ops to stay away from the issue when things turn out badly. With our portable locksmith group moving, we are at your administration to help and have it dealt with by our specialists.
" Steve is awesome! I called him and he came the next morning. I was uncertain about how many double keyed locks to install. Steve took the time to talk it through with me and helped me decide what was the best course of action. He spent WAY more time on the project (due to my very difficult door), but did not charge me for the time he spent dealing with the door. He could have charged me double. And on the way out, he fixed my front door handle. Best customer service and his work is great. I highly recommend him! "
Waris wade
"Highly recommended! Our real estate company has worked with Steve since 2013. Steve is our go-to locksmith for Charlotte and the surrounding areas. Steve does excellent work and he's a really nice guy! Always a pleasure working with Steve!"
William Winterkamp
"STEVE is a hardworking locksmith who is always on call. I called yesterday morning only for him to follow up again with me that evening. The next morning he came on time and rekeyed my place within 20 mins. He provided me with new keys and I was able to but I few extra for a tiny fee! Thanks Steve for making me feel safe again. "
Alexia