20+ Years of Professional  Locksmith Services in Charlotte NC
Steve's Locksmith takes pride in providing quality locksmith services to our clients in North Carolina.
Hire Charlotte's Best Locksmith!
Steve's Locksmith is the best locksmith in Charlotte, North Carolina. That's a fact. We are a family-owned and operated business founded over two decades ago. Our team offers the highest quality locksmith services in Charlotte. We are also a Mul-T-Lock authorized dealer plus, we have satisfied thousands of customers like you in Queen City by providing quick and efficient solutions to their lock and key problems.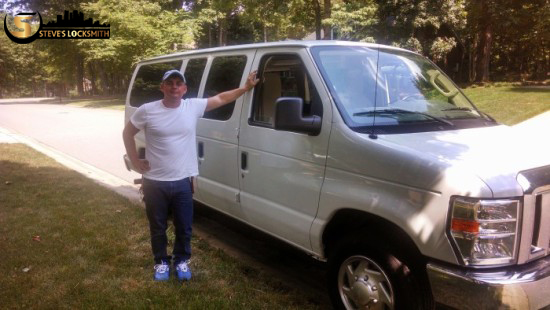 With years of experience and dedication to customer satisfaction, you can be assured you will get the best locksmith in Charlotte. We at Steve's Locksmith strive extremely hard to deliver the best Charlotte locksmith services in a reliable manner. No matter how simple or complicated your lock issue is, our technicians will always take the task with utmost sincerity and finish it as soon as possible without invading your privacy.
We at Steve's Locksmith understand the need for crisis and emergency locksmiths. Nothing is more nerve-wracking than getting locked out of your home at odd hours or the lock on your office failing to work. It only leads to irritation and frustration.
In circumstances such as these, it takes the best locksmith and specialists to deal with the situation. This is why we consider ourselves the best Charlotte locksmith. If you are looking to get a repair/replacement of a lock and key system of your office or residence, and reside in the NC area, you've surely landed at the right place as we at Steve's Locksmith offer the best locksmith services in Buzz City.
We are an organization dedicated to the task of providing instant and useful solutions to every lock and key issue that people encounter on daily-basis. We have extensive experience with serving the people of our community in NC and take pride in providing nothing but the best locksmith services to our clients. Call our experienced locksmith team at (704) 589 8806.
Your Complete Licensed Locksmith Company in Charlotte, NC
Steve's is a licensed locksmith company offering locksmith services in Charlotte, North Carolina. We are licensed by the State of North Carolina Licensing Board to perform locksmith services and our locksmith license number is #0253.  There is no doubt that lock-related issues can arise at any hour of the day and one might need the help and support of a professional locksmith at wee hours as well. Getting in touch with a local locksmith is as necessary as staying in constant touch with an experienced electrician, plumber, or carpenter.
Everyone on our team is licensed and you can even ask us to show you our licenses if you want. Thus, whenever a client such as yourself approaches us with his/her lock and key-related issues, our licensed technician immediately rushes towards the spot in order to impart his expert services. You can rest easy knowing your desires and needs will be met. You are also ensured of the complete security of your loved ones and prized possessions.
Professional Charlotte Locksmith
We are the most popular and professional locksmith in the most populated city in North Carolina. At Steve's Locksmith, we have a team of professionally qualified locksmiths and technicians that are very well aware of each and every aspect of lock and security problems and are trained to react immediately in emergency situations. Choose the most dependable and professional locksmith in Charlotte NC 
Avail the services of Steve's Locksmith so you can have peace of mind that your establishment's locks are in good hands. We provide quick and efficient locksmith services. Why hire other locksmith service providers when you can get professional locksmith services with us? 
Residential Locksmith Services in Charlotte NC
Steve's Locksmith is one of the highest-rated residential locksmiths Charlotte has to offer. Our experienced and licensed technicians can work with a wide array of locks in homes and business establishments. At Steve's Locksmith, we tend to offer a number of residential locksmith services to our clients located in the Charlotte NC area, including services for rekeying locks, emergency lockout, locks replaced, and locks changed.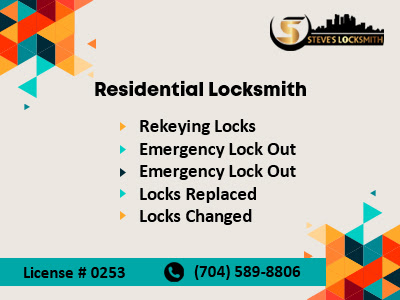 Whatever type of lock your house is using, trust that we can figure it out for you. We are capable of unlocking advanced locks because we utilize specialized technology to get the job done for you. Our services don't stop there. We also provide locks that can improve the security of not only your home, but an entire building. 
Whether or not you own a mansion or an apartment in the Piedmont region, you need to pay a lot of attention to its physical security system in order to ensure the complete well-being of your loved ones. 
There is no denying that locks constitute one of the most important parts of the entire security of one's residence. Ensuring complete security and safety of one's home is the first priority for everyone, so don't risk it by opting for a 2nd rate locksmith or forgoing one at all. Steve's can offer you protection.
Don't let so-called expert Charlotte locksmiths eat you out of house and home. We can assure you that the locks in your home will be figured out professionally by our trusted technicians. We are a company who has an impressive background, backed up by the testimonials of our pleased customers. Make us your Charlotte residential locksmith now.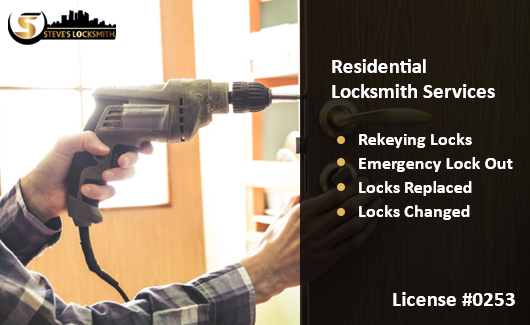 Commercial Locksmith Services in Charlotte NC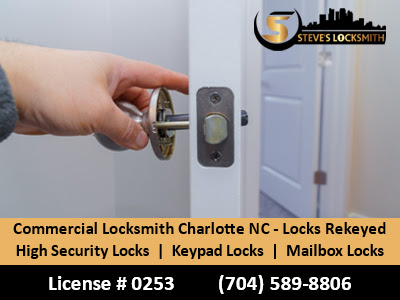 Steve's Locksmith is the top commercial locksmith Charlotte can provide. Charlotte is one of the largest financial institutions in the US, home to giants and powerhouses such as Bank of America, Lowe's, Duke Energy, Honeywell, and the East Coast operations of Wells Fargo. Whether you work in a small, medium, or big business security is key.
Lucky for you, we are a team of locksmiths ready for any challenge you can throw at us. Our technicians have been in the business for several years and are experts in installing advanced locking systems, such as CX-5 or Scorpion and Mul-T Lock. These modern locking systems are amazingly efficient because they are high drill resistant and pick resistant. We excel in our jobs so you can do yours.
What's amazing is that you can avail of these wonderful features for life! You need to feel safe in your work environment. So, stop wasting time, and effort hiring inexperienced technicians just to cough it all up for installation fees and other unnecessary expenditure down the road. Charlotteans, it's time to get your locks rekeyed, high-security locks, keypad locks, and mailbox locks from Steve's Locksmith for a safe and secure workplace.
The corporate world is full of scammers, and the same goes for the locksmith business. However, at Steve's Locksmith, you can rest assured that your money will not go to waste. Our Charlotte locksmith company is a recipient of the 2013 Super Service Award from Angie's List.
We also have certification by ALOA Security Professionals Association Inc. and accreditation by our local Better Business Bureau. Whatever be your business, solving your lock and key problems are our business. Get in touch for a quality office locksmith in Charlotte.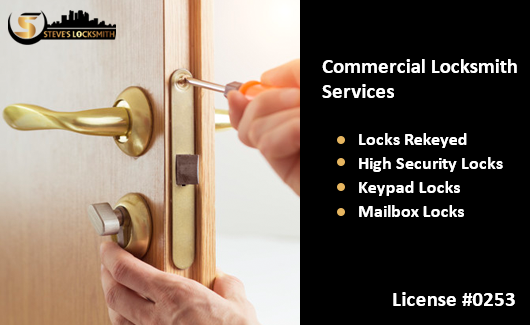 Automotive Locksmith Services in Charlotte NC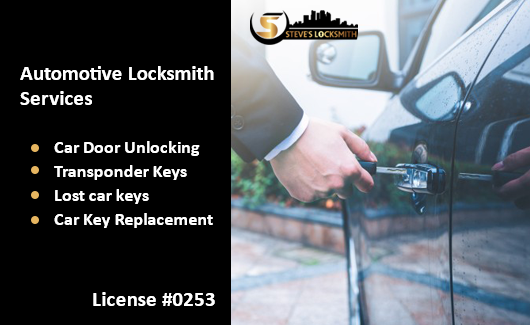 When it comes to auto locksmith services in Charlotte, Steve's is hands down #1. A number of people encounter lock and key-related issues with their vehicles, the most common of which are locking their keys in the car and breaking of original keys. No matter how big or small your auto lock problem, we at Steve's Locksmith have the answer.
Our expert team of technicians is capable of handling such issues with ease. Our car locksmith Charlotte NC offers many services which include car door unlocking, transponder keys, lost car keys, and car key replacement. We also perform and undertake the replacement, maintenance, and repair of motorcycle lock and key systems. Contact our experts if you're facing any car troubles.
We Are Charlotte's Most Affordable Locksmith!
We are the most affordable locksmith in Charlotte, North Carolina. Also, our Charlotte locksmith services – be it car, commercial, or residential will never prove heavy on your pockets and would cost you much lower than you would expect.
We provide the most economical locksmith services in the Charlotte area without compromising on material quality, parts used, or the efficiency of our technicians.
So, in case of any lock and key issue, don't hesitate to call Steve's Locksmith – the most cost-efficient name in locksmiths in the entire Charlotte NC area.
Call a Local Locksmith in the Charlotte Area!
Steve's Locksmith is a local locksmith and our team has been operating in the Charlotte area for over 20 years.
Charlotte has many events and attractions to enjoy such as Carowinds Amusement Park, the NASCAR Hall of Fame, the Discovery Place Science Museum, or football games at Bank of America Stadium.
What's not enjoyable is getting locked out of your home, car, or office.
Don't worry, though. If you're ever in a spot of bother, give our expert team a ring at (704) 589 8806 and we will head to your location and get things done in the blink of an eye.
We are local! No matter what your issue is or where you are, our team can reach you and take care of it with ease. Wherever you are, whatever your situation, don't hesitate to call us. Make Steve's Locksmith your local locksmith today!
Generally, most people don't feel like calling a locksmith service for fear of a potential misplaced key or a new move in. If this is you, don't fret at all. We are a mobile and local locksmith and can get to your location instantaneously.
Not only do we provide local locksmith services to the hardworking people and businesses of Charlotte, but we also serve students, teachers, and staff at the University of North Carolina Charlotte and other surrounding areas in Mecklenburg County.
We operate in all major Charlotte areas including Ballantyne, NoDa, Center City, South End, Plaza Midwood, Eastover, Myers Park, Dilworth, North Charlotte, Revolution Park, and Barclay Downs.
Steve's Locksmith to the rescue!
Fill out the below form or call (704) 589 8806 for a quality local locksmith in Charlotte.